In this edition of Royals, we make acquaintance with an animated MTV sitcom, Daria. We get to know Royals at Lawndale High.


*****SPOILER-ALERT*****
 
[mention]THIRD WARD TRILL[/mention] as Sandi Griffin


Sandi is the self-appointed ruler of small but influential clique, the Fashion Club, and is the group's undisputed queen bee—until the arrival of Quinn Morgendorffer, that is. Initially, she seemed friendly to Quinn and almost immediately made her the VP of the Fashion Club. It wasn't long, however, before Sandi became intensely jealous of Quinn's greater popularity and cuteness. While not an exceptionally bright student, Sandi is the most eloquent of all the Fashion Club members. She often voices the assumed collective opinion of all the girls using haughty speech and an occasionally impressive range of vocabulary. This is in stark contrast to fellow Fashion Club member Tiffany Blum-Deckler's slow and monotone Valspeak responses, which usually only echo either Sandi or Quinn's sentiments while using as few syllables as possible. Sandi is a very deliberate, cautious leader, who is rarely indecisive and shows few weaknesses. As such, she sets the agenda for most of the Fashion Club's projects and weekly obsessions.



[mention]Maleficent[/mention] as Quinn Morgendorffer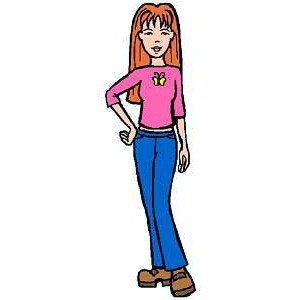 Quinn Morgendorffer is the younger sister of Daria Morgendorffer and a freshman (later sophomore and junior) at Lawndale High and the VP of the Fashion Club. Nearly the polar opposite of Daria, Quinn is perky, popular, and attractive in the eyes of her fellow classmates, much to Daria's chagrin. She's stereotypical self-absorbed teenage girl who is concerned mainly by clothing, shopping, and being popular. Her interests beyond such trivial things are minimal save for getting into a "Party College" with her friends. Often, she seems unaware of basic facts that are not connected with looks or fashion. She has also become afraid and insecure when she thought her looks were not good enough. While she had many boyfriends (even going as far as to come up with a ranking system for the boys she dated), her only consistent followers were three teenage "jocks" from her grade level: Joey, Jeffy, and Jamie, classmates who constantly followed her around and were being manipulated by Quinn for her own purposes. Quinn's popularity is her greatest obsession and weakness.




[mention]Angela Merkel[/mention] as Helen Morgendorffer


The strong matriarch of the local Morgendorffer clan. A constantly busy lawyer by trade, she still finds time to do her share (and often Jake's share too) of parenting of Daria and Quinn. She often mentions trying to spice up her marriage, and makes numerous attempts when she has time to try to bond with her daughters. Helen is hard-working attorney, but -like Jake- can be short-tempered due to a busy schedule and stress. Despite this, she is compassionate, caring, motherly, and tries her best to give Daria advice on different moments in her life, even if it's not the best advice.



Raven as Daria Morgendorffer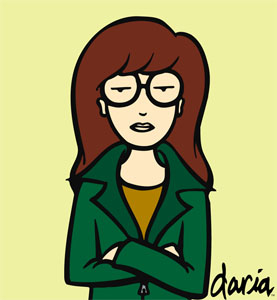 Daria Irina Morgendorffer is the series' titular protagonist. She is the eldest child in the Morgendorffer family and a disaffected, misanthropic student of Lawndale High. Daria's best known characteristic is her deadpan sarcasm; her usual reaction to almost anything and everyone being a dry, witty remark at their expense. This commonality is what united her with her best friend, Jane Lane, and the two often enjoy a sort of innate pride in seeing see high school life more objectively than their brain-dead classmates and condescending or self-focused teachers. Daria is naturally intelligent and known as a "brain" in school, earning average to high marks in all of her classes without much effort and spending much of her free time on intellectual pursuits such as reading and writing. Another one of Daria's key traits is her staunchness, as she is often highly opinionated, sometimes harshly judgmental and even smug at points. Although her stance on most things is unwavering, Daria is also highly self-aware, which means she is also willing to look at herself in the same critical light in order to learn from her mistakes.



[mention]p.Lo[/mention] as Jane Lane


Jane Isabella Lane is the best friend of Daria, and the youngest child of the Lane Family. Jane, like Daria, is cynical, smart, and sarcastic, although she's more open-minded and well-adjusted. She serves as a more outgoing and likable counterpart to Daria's closed-off, combative worldview. Though she can also be sarcastic, she truly does care about Daria and does treasure their friendship. She has a cordial but distant relationship with her absentee family, although she prefers them to be somewhere else. The sole exception is her older brother, Trent Lane, with whom she is best buddies with. Unlike the rest of the family, Trent usually stays in the house with Jane and offers the most support. She also has no problem fitting in when she tries, such as she decided to join the track team in "See Jane Run".



[mention]Prince Oberyn[/mention] as Trent Lane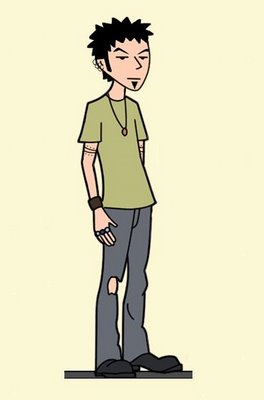 Trent Lane is the older brother of Jane Lane and an aspiring musician in the band Mystik Spiral. He is incredibly laid back and spends most of his time asleep. He never wears a watch since he's always late, so watches depress him. Despite his laziness, he does care about and loves his little sister Jane and often wishes to help her in any way. He takes weird things in stride, like being in a band with physical Holidays or strangers in his house. He is also the most stable of the band members, and puts up with their arguments and bickering. He usually hangs out with his fellow band-mate, Jessie. Despite his lethargic tendencies, Trent can be somewhat insightful. He helps Daria figure out her relationship with Tom Sloane (after she had gotten over her own crush on Trent). He is very close to Jane, and tried to convince her not to go to college because he would be lonely in the Lane house by himself.



[mention]Dani[/mention] as Brittany Taylor

Brittany Taylor or Britt is a student and cheerleader at Lawndale High. She is the on again off again girlfriend of Kevin Thompson. The stereotypical rich "popular" cheerleader, Brittany is the second-dumbest kid at Lawndale (the first being her boyfriend). She has more than her share of moments of gullibility and is easily distracted, but occasionally shows idiot-savant moments, like when planning a complex and successful paintball tactic. Brittany is never mean on purpose, but does show hidden feelings of naive self-respect, mostly towards Kevin. She usually imagines her future self as leaving him and becoming amazingly successful. As the series progresses, she starts to becomes friends with Daria and Jane, usually going to them for advice.



La Stupenda as Andrea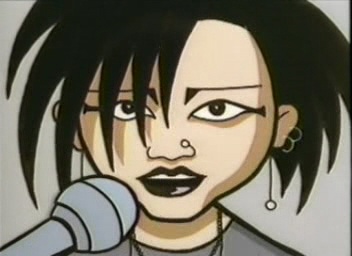 Andrea is, quite simply, the "goth chick." Little is known about her, but her manner of dress (dark eyeliner, gray shirt, long gray skirt, fishnet glove on one hand) and her quiet demeanor all scream "dark." In fact, if her poetry is any indication, she could give Daria Morgendorffer a run for her money in the "bleak outlook on life" department. She is in several of Daria's classes. Andrea works as a stock clerk at her parent-enforced job at the local warehouse store. She has developed something of a cult following among the fans, with many of them hanging on her every non-syllable.



[mention]Cashmere[/mention] as Anthony DeMartino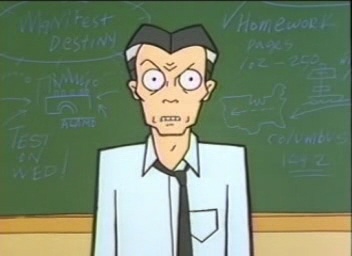 Anthony DeMartino or Mr. DeMartino to the students is a history teacher at Lawndale High. His most notable characteristic is his bulging eyes, one of them occasionally popping out and veined when angry, usually because of Kevin Thompson. He truly wants to be a good teacher, but he uses the students' apathy as an excuse to lash out and yell at them, which has very little, if any effect. As a young boy, Anthony attended military school because his mother did not want her dates to know that she has a son. It appears that he has been resentful of this course of action ever since. Anthony is impressed with Daria Morgendorffer's actual intellect, but more frustrated with Kevin's idiocy yet football success. He usually deals with Kevin and Brittany Taylor's naitivitae by taking advantage of them with sarcasm.



Featuring
[mention]Martin[/mention] as Tiffany Blum-Deckler

Tiffany, as Sandi and Quinn, is a member of the Fashion Club of Lawndale High. She is portrayed to be clueless and terminally narcissistic. She speaks with a semi-Valley Girl drawl, and almost always speaks it veeeeerrrryyyyyy ssssslllloooowwwwllllyyyy. She is in many of Quinn Morgendorffer's classes. It is difficult to exaggerate this character's cluelessness. Many of her scenes in the show deal with this, and it is often used as the basis of the humor in her scenes. In some episodes, it has seemed to be that she's just a sycophant, changing loyalties to whoever has the upper hand at the moment. However, sometimes this behavior has turned out to be her usual stupidity and cluelessness.



[mention]Tina[/mention] as Jodie Landon

Jodie Abigail Landon is a student at Lawndale High. As intelligent as Daria Morgendorffer but much more well-adjusted and social, Jodie has the brightest future out of her fellow students. An African-American, she's one of the few black students in her school and is stressed about having to be "the perfect example". Her parents force her to do many activities to make her college application look good, as well as giving her good connections to the other Lawndale elite. Jodie sometimes looks for Daria to ask her a question or an opinion on something (and sometimes gets sarcasm back, to her annoyance). In return, she is one of the few people of Daria's age whom the cynical girl respects. She's also able to 'get' Daria's humour, unique among most of the students, and is capable of doing her own sarcasm that flies over the heads of the dimmer kids.



[mention]Ramon[/mention] as Tom Sloane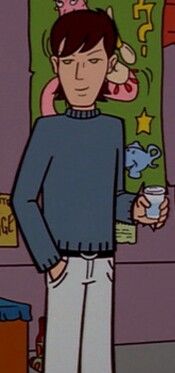 Thomas "Tom" Sloane is a rich teenager who belongs to one of Lawndale's richest families, but this is neither apparent from his appearance, nor by the car he drives. One of the few non-adult characters that doesn't go to Lawndale High. A love interest of Jane then later Daria. He is a smart guy and has a casual, easy-going personality, unconcerned with most situations and assuming that things are going to go fine for him in a way that crosses the line into smugness. Unlike Daria (and more like Jane), he is more open and friendly to new experiences and people. Tom is quite adaptable to new situations, able to quickly work out solutions to problems ("A Tree Grows in Lawndale"), and to social groups.



Leonard Hofstadter as Timothy O'Neill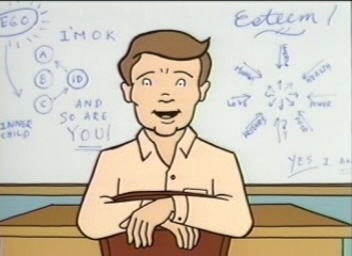 Timothy O'Neill, is an English teacher at Lawndale High, who also heads many counseling groups, including It's Okay to Cry. He is always cheerful and sensitive, but usually forgets his students' names and is taken advantage of. He has a long-running romance with the science teacher, Ms. Barch. Despite constant attempts at helping people find their emotions, he shows signs of repression and cries often. As a teacher, he tries to get in touch with students by tapping into their emotions so that they can relate to whatever it is they are learning. Mr. O'Neill primarily teaches English (at Lawndale it is called "Language Arts") and also teaches an after-school course on Self Esteem, which Jane and Daria meet.