A London Production



in conjunction with

The




Presents

The Attack on UrbanTitan Edition


Over 100 years ago, a natural predator of humanity appeared: the

Demons

Titans, giant humanoid but mindless monsters whose sole purpose of existence seemed to be to devour humans. There was an insurmountable gap in power between them and mankind, and as a result, humanity was rapidly exterminated to the brink of extinction. The survivors responded by constructing three concentric walls: Wall Maria, Wall Rose and Wall Sina, which graced them with a century of peace. However, one day a Colossal Titan far larger than any other seen before breached the outer wall, allowing the smaller Titans to invade the human territory and forcing the survivors to retreat to the inner walls. Eren Jaeger, a boy whose mother was eaten during the invasion, vowed to wipe every last Titan off the face of the Earth, and joined the military determined to exact his revenge.
DQC as
EREN JAEGER
Eren is a member of the Scout Regiment and the main protagonist of Attack on Titan. He is the only son of Grisha and Carla Jaeger and the adoptive brother of Mikasa Ackermann,[9] and he possesses the power to transform into a Titan.

He was born and raised in the Shiganshina District located on the southern edge of Wall Maria, until the year 845, when the Colossal and Armored Titans breached the Wall, allowing a flood of Titans to invade and destroy the city. During the incident, Eren witnessed his mother being murdered and eaten by a smiling Titan. This event aroused in Eren an intense hatred towards the Titans, and he swore to wipe all of them off the face of the earth. Eren is best described as hardheaded, strong-willed, passionate and impulsive, which are both attributes of his strong determination to protect mankind and eventually escape the Walls. As a young child, he was so intent on joining the Scout Regiment that he argued with and shouted at his mother, referring to the people in the village as "silly" and compared them to complacent livestock.
BYC as
MIKASA ACKERMANN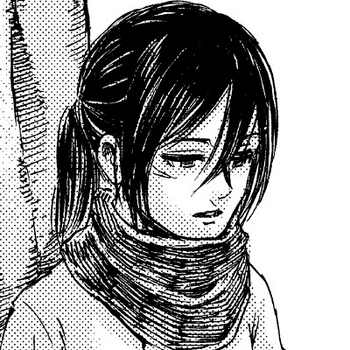 Mikasa is the adoptive sister of Eren Jaeger, and is the main female protagonist of the series.

After her biological parents were murdered by human traffickers, she was rescued by Eren and lived with him and his mother and father for approximately a year before the Fall of Wall Maria.

Though she desires only to live a peaceful life with Eren, Mikasa chose to follow him into the military —

where she is considered the best soldier among the 104th Cadet Corps.

She later joined the Scout Regiment to continue following and protecting Eren. After the murder of her parents, Mikasa has become noticeably emotionally withdrawn and serious, but she still loves and cares deeply for her friends, especially Eren and Armin, seeing them as the last remnants of a family she cannot afford to lose. Her personality as a teenager is very much influenced and molded by Eren, who told her she stood no chance of survival if she did not fight for it.
D'Avi as
ARMIN ARLELT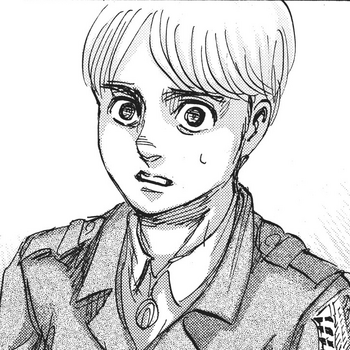 Armin is a soldier in the Scout Regiment. He is also a childhood friend of Eren Jaeger and Mikasa Ackermann, and is one of the two deuteragonists of the series. Although he appears to be the physically weakest of the 104th Cadet Corps,

his high intelligence and strategic genius

makes him an invaluable asset, though he does not consider himself to be one and is known to have a low self-esteem.
London. as
Captain Levi Ackermann
Levi, often formally referred to as Captain Levi , is the squad captain of the Special Operations Squad within the Scout Regiment, and is said to be

humanity's strongest soldier.



While Levi shows loyalty and empathy for his comrades, he shows no mercy towards the Titans, slaughtering them indiscriminately with obvious indifference. When dealing with individuals he perceives to be enemies to mankind, Levi is capable of behaving sadistically, even vindictively. Though Levi is aware that his battle skill is in a different league from that of almost any other human soldier alive, he is not particularly arrogant about it, as he knows from experience that no human soldier is invulnerable.
Mack. as
Reiner Braun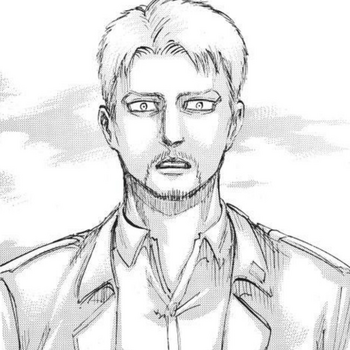 Reiner is a graduate of the 104th Cadet Corps and a former member of the Scout Regiment. He ranked 2nd in his class, and was

regarded by others as a charismatic and a reliable big brother-like figure.

He is rarely seen without Bertholdt Hoover, his close childhood friend, both of whom originate from an unknown area which he refers to as his hometown.
Silence. as
Annie Leonhart
Annie is a graduate of the 104th Training Corps and former member of the Military Police Brigade. Her exceptional skill with swords and unarmed combat earned her the 4th rank, but

she is noted to be a lone wolf that struggles to work with others.
NewAgenda as
Conny Springer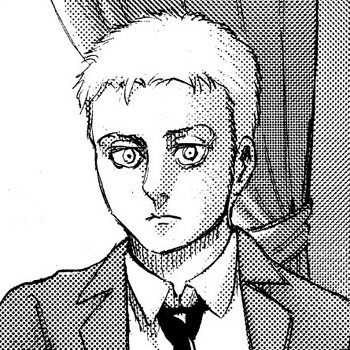 Conny can be best described as outgoing and impetuous. He has an easy time expressing his opinions, and enjoys flaunting his skills, especially during his days as a trainee. Despite being in the military,

Conny starts off as rather unfocused, and enjoys goofing around and messing with his friends, but can also be a bit dense at times

.
Jimmyboy as
Bertholdt Hoover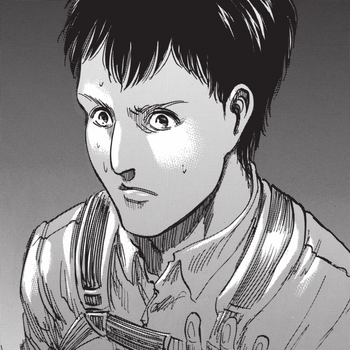 Bertholdt is a graduate of the 104th Cadet Corps and a former member of the Scout Regiment.

He ranked 3rd in his class, and is described by others as a weak-willed and quiet person

. He is rarely seen without Reiner Braun, his close childhood friend, both of whom originate from an unknown area which he refers to as his hometown.
Jorge. as
Commander Erwin Smith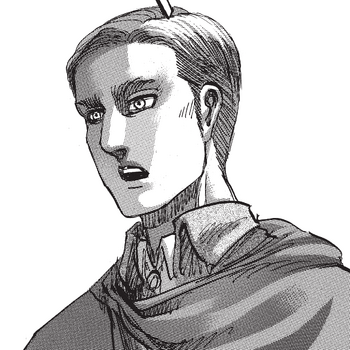 Erwin, often formally referred to as Commander Erwin Smith, is the 13th commander of the Scout Regiment. Discerning, intelligent, and widely respected, Erwin is an able commander.

While he cares deeply for his men, he does not hesitate to sacrifice them for the good and prosperity of mankind

, and his men have proven more than willing to stake their lives at his order. Erwin developed the Long-Distance Enemy Scouting Formation.
The Bunifah as
Ymir
Initially, Ymir appears

selfish, cynical, uncooperative, exploitative and confrontational, but later reveals kindness

, especially around Historia. She often criticizes people for being untrue to themselves, as when she berated Sasha Braus, who developed an extremely polite and formal way of speaking to hide her native accent.
Tina as
Sasha AllenBraus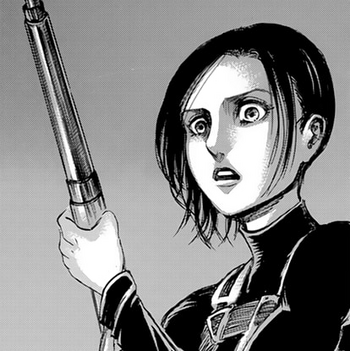 Sasha is a member of the Scout Regiment and one of the few former members of the 104th Cadet Corps, of which she was ranked 9th best, that decided to join.

A compulsive food hoarder with an overly polite way of speech

, Sasha originates from Dauper, a village in the southern territory of Wall Rose. She is rather simple-minded and eccentric, but, surprisingly, her intuition is very sharp, surprisingly courageous, and she has been considered a wise judge of circumstances and danger. Sasha has an incredible appetite; eating provides her with considerable gratification and relief, especially during times of great stress, and food is often the only thing on her mind when at ease.
SuperG as
Historia 'Christa' Reiss
Historia Reiss is a graduate of the 104th Cadet Corps and a member of the Scout Regiment. During her trainee days, she went by the name of Christa Lenz.

Historia displays kindness to all those who cross her path, and takes any available opportunity to help people

. She is shown to be rather meek, but friendly to those she is close to in the Scout Regiment. Historia is not above making sacrifices for others, as she willingly tears her clothing so that she may give Reiner Braun a sling for his broken arm, which she treated for him. Historia also goes out of her way to see that others are well, making sure that Sasha Braus has food and water after her punishment in the 104th Cadet Corps and sticking up for her when Ymir picks on her.
MartinE as
Hange Zoe
Hange is a high standing veteran member of the Scout Regiment and a section commander in charge of the fourth squad.

Hange conducts research on X6Titans to the point of being obsessed with them

and as such, is deeply interested in Eren Jaeger, who has the ability to transform into a Titan. Hange is not a character with a solid personality; all of her emotions are usually broadcast in the most extreme way possible. To most people she appeared as an energetic and quirky scientist with a very unique way of conducting herself and her work. However in time of stress or confusing situation, Hange is able to keep a level head and make solid and quick decisions.
Sam as
Miche Zacharius
Miche was a section commander and trusted member of the Scout Regiment. He was considered humanity's second strongest soldier after Levi. Miche had a remarkably good sense of smell, which allowed him to detect InternsTitans from great distances.


Special Appearances by the

Demons

Titans
Mysteries/betrayals

REVEALED



[mention]Walkaway[/mention] as
The Colossal Titan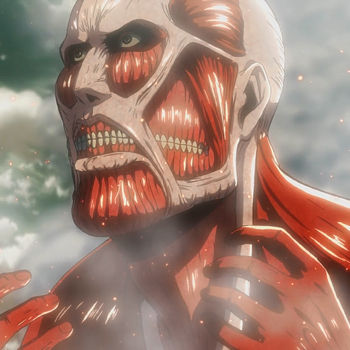 The Colossal Titan is the Titan form of Bertholdt Hoover and humanity's greatest threat. It first appeared five years ago during the fall of Wall Maria and returned five years later at Trost. The Colossal Titan makes its first appearance outside Wall Maria, terrorizing the population of Shiganshina and kicking a hole in the southern gate. Soon afterwards, the Titan inexplicably disappears in a cloud of steam. Its actions allow the normal Titans wandering outside to enter Shiganshina, where they begin to feast on its many inhabitants, including Carla Jaeger.


[mention]Razzi X[/mention] as
The Female Titan

The Female Titan is the Titan form of Annie Leonhart. It possesses the ability to attract mindless Titans to its position over great distances and in large numbers, though her Titan is unusable while she is comatose. During the 57th Exterior Scouting Mission of the Scout Regiment, the Female Titan makes its first appearance as it leads a group of Titans to capture Eren, wiping out the majority of the scouts on the right side of the Scouts' formation.


[mention]R0K[/mention] as
The Armored Titan

The Armored Titan is the Titan form of Reiner Braun and an elusive threat to the human race. It first appeared five years ago during the fall of Wall Maria. The defining feature of the Armored Titan is the all-encompassing layer of plated, armor-like segments of hardened skin protecting the Titan body. The Armored Titan first appears in the year 845, shortly after the Colossal Titan first breaches Wall Maria, participating in the attack on Shiganshina district. During the chaos of the initial breach, it enters the city and makes its way across the streets to the interior gate. Once there, it charges towards the gate and smashes through it, allowing Titans to invade Wall Maria.


Who can the urbankind actually trust?!